Taz and Bogart: The Beginning

Exactly when and where Taz and Bogart's journey began is anyone's guess.
But we do know that they began to really live on August 9th, 2007 when someone turned them into the city animal shelter in Van Nuys.
This is what they looked like that fateful day: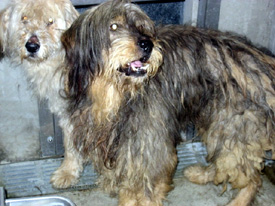 Not a pretty picture, to say the least -- but what shelter volunteers would find under all that matted and dirty fur would be even worse.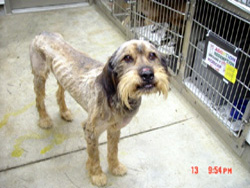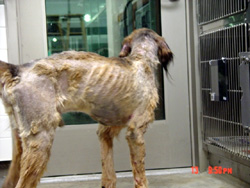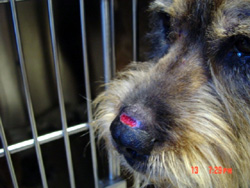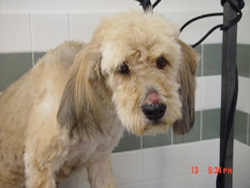 Severely malnourished and underweight; open wounds and sores; what appeared to be a grapefruit-sized tumor and plaque-encrusted teeth - it was bad.
Oh, if they could only talk and tell us what happened to them!
It took only one look into those haunting brown eyes and Pnina Gersten, a shelter volunteer knew then and there that she had to help these two brothers who are attached at the hip and the heart.
The networking began and poof, here the boys are at home with me!
And in a sense, with all of you too since this truly is a labor of love for which it takes a village.
Under Bogart's matted fur, we found what doctors diagnosed as a "bilateral perineal hernia" thru which his bladder "pops out".
It is a potentially life-threatening condition for which he needs surgery. And since the hernia is on both sides (bilateral) he may require another surgery in the future.
Meanwhile, Taz is severely anemic -- about 20 pounds underweight -- and is being treated with antibiotics for abnormal white and red blood cell counts.
The estimate for Bogey's surgery alone ranges between $2500 to $3900 -- even with the discount offered by Animal Specialty Group since these boys are rescues.
I couldn't have done this alone but thanks to all of you who kindly responded to a plea for help for these boys, the costs of the first surgery have now been covered!
Your generous donations have also covered the ongoing medical bill for Taz, as well as the estimated costs for their follow-up care.
All of you, friends and strangers; coworkers and dog-blog readers; animal-lovers and specialty groups came through for these two souls who apparently have only had each other to count on.
Now they have an entire village!
Bogey is scheduled for surgery this Wednesday, September 5th at ASG while Taz will be returning to Roxford Veterinary for additional blood work and tests.
Just as I invited you to help me help them, I now invite you to join us on this journey which will be documented here.
In the spirit of Pinche who started it all (and who Taz looks remarkably like) and my baby boy Bubba, the dog blog lives on!
Let the journey begin -- it is Taz and Bogey's journey now.

Bogart to Surgery
September 5, 2007
6:45 am
Well, we are on our way to ASG!
Last night I had a long talk with Bogart -- explaining to him what was going to happen today and most importantly, telling him that he wasn't being abandoned again.
I think he understood because at 3 am I had to wake him up from a nightmare. Maybe I shouldn't have told him about the neutering part.
Wish us luck.
9:15 am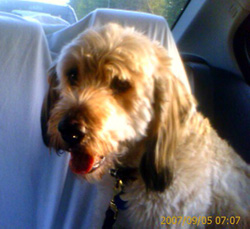 Bogey in Car
Just returned from dropping Bogey off at ASG. It was terrible!
Crying, howling, separation anxiety....and that was just me.
Bogart, on the other hand, was just as calm as could be. He did give me about a million kisses which I interpreted as a last ditch effort to persuade me to drop the whole neutering thing.
But two beautiful blond vet technicians later and I was but an after-thought as he happily went off with them, tail-a-wagging.
Soon, what I call the "Bogey Bump" will be gone and all will be well.
Meanwhile, Taz is having serious issues. For the last 20 minutes he has been running around the house looking for his best buddy Bogey.
He appears to think this is a game of hide-and-seek gone terribly wrong and keeps coming up to me crying as if I have hidden Bogey somewhere.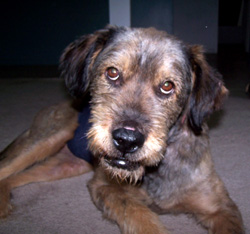 Where's Bogey?
Surgery is scheduled for after 1 pm so I'll be back later -- have to go and console Taz now.
1:15 pm
Bogey is in surgery right now.
Ahh, my poor puppy.
6:15 pm
Yeah! Bogey is out of surgery...groggy but resting comfortably.
His surgeon has been in the operating room all day so I haven't spoken to him yet but another doctor told me that everything went well.
I did speak to Dr. Long who called with the good news that Taz's blood work came back perfect! So tomorrow he will go in for neutering and teeth cleaning.
Without Bogey here, Taz is still pretty stressed but eating well, and when it comes to our furry friends that's always a good sign.
Midnite
My, what a long and draining day this has been!
Between worrying about Bogart and reassuring Taz all day that I am not Cruella DeVille and his best friend in the whole world has not disappeared -- well, at least not permanently, I am beat!
Not to mention that driving to ASG and calling them all day about a dog in surgery, well that really brought back memories of Pinche and Bubba.
Oh, how I still miss those two. Terribly, as a matter of fact.
But back to Bogart -- I spoke to his surgeon earlier this evening and he told me that everything went as planned in surgery.
A flap was created to take care of the hernia while they also went in thru his abdomen to suture his bladder and colon so that they don't slide out the other hernia. Of course, these are far from the medical terms Dr. Huber used but I think you get the picture.
What a major surgery! Oh, and he got neutered too.
I just called ASG again and Bogey is sleeping.
Meanwhile, Taz enjoyed the company of his Godmother Donna while I was at work. He got a bath, a trim and was basically spoiled rotten all night long.
He too is absolutely exhausted from worrying about Bogart and is snoring on the floor next to me.
Tomorrow morning it will be his turn for surgery.
He's already mad at me for making Bogey vanish -- imagine how he'll feel when he wakes up tomorrow afternoon and sees that something else has vanished.
Thank God dogs don't hold grudges.

Taz to Surgery
September 6, 2007
10:00 am

I just dropped off a sweet but still stressed Taz at Dr. Long's where he will be neutered, have his teeth cleaned and a few other other unmentionables done. Some additional tests will also be run.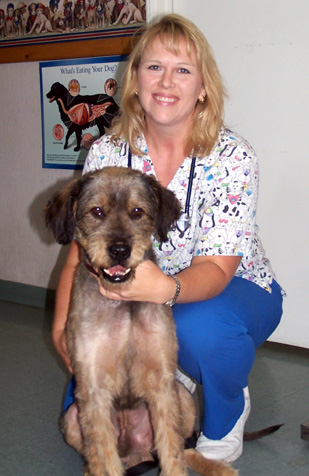 Taz and his beautiful vet, Dr. Teresa Long
Doesn't he look like a puppy in this picture?

Meanwhile, just spoke to a doctor over at ASG where Bogey is recuperating from his major surgery. He's wearing a pain patch and is on an IV but was up walking this morning.
If all goes well, he should be ready to come home tomorrow.
6:45 p.m.
Taz is home!
A little lighter you-know-where but just as sweet. Apparently he's not mad at me...either that or the pain medication hasn't worn off yet.
His surgery went well but when it came to his teeth, Dr. Long said that what appeared to be two misshapen teeth were actually broken off tooth stubs and had to be pulled.
So now to match his charming underbite , he has a toothless grin!
Ahhh, Taz....it's a smile only a mother could love.
10:00 p.m.
Both patients are doing very well tonight.
Taz has been napping most of the night but is in remarkably good spirits considering he was "surgically unenhanced" today.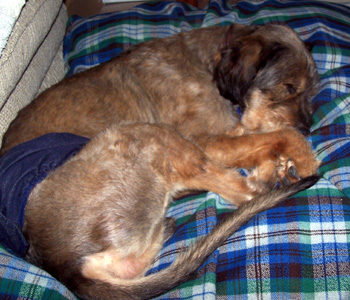 Taz napping after his surgery
He's been put on a small regimen of medication that includes antibiotics, pain medication and Flagyl.
As for his other half, techs at ASG just told me that Bogart is doing well. He had just gone for a short walk and was eating again.
He should be able to come home tomorrow, which I know will thrill Taz.
After the "smell and greet" takes place, both boys will realize that that is missing and will begin sharing their war stories.
That's when they will hate me, I am sure.
The Boys
September 7, 2007

After a rousing game of "I want to sleep in your bed!", Taz finally settled down last night, in his own bed, and slept wonderfully.
And today he is back to his fun-loving and mischievous self.
Bogart is set to come home late this afternoon, much to our delight.
Until then, thanks to all of you who have written, thought good thoughts and included all of us in your prayers.
It's a face....
September 9, 2007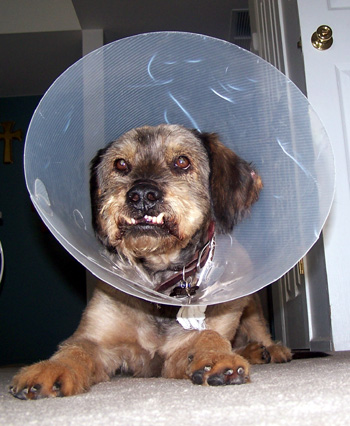 Taz, the toothless wonder dog with an underbite
It's a face only a mother could love....Taz.
Both boys are doing fine as they continue to recuperate from their surgeries.
Bogart's scars are quite impressive -- he really went thru a major surgery. More like three surgeries since he has three different incisions (abdomen, rump for the hernia and his neutering).
As I watch both boys napping peacefully next to me, I am once again reminded of a dog's strength and resilience.
They truly are amazing creatures.
All is Well
September 10, 2007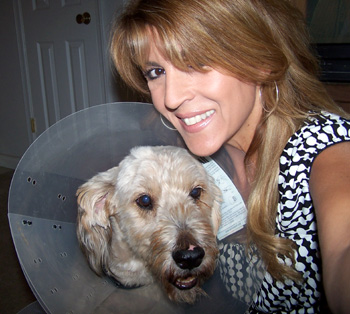 The Beautiful Bogey and me
The week starts off with both boys recuperating very nicely.
Both Bogey and Taz are still on a laundry list of medications and supplements but they are being cleverly disguised in hot dogs so no problem there. Their appetite is back to normal and they are both sleeping thru the night.
I am still in awe of Bogart's scars which would have had any one of us on serious bed rest but he's just as happy as can be.
He has had two small regurgitation episodes though, which immediately brought back a flood of unwanted memories -- those of you who followed Bubba's battle with the horrific Megaesophagus monster know to what I refer.
It is amazing how the sight, smell and sound of something can instantly transport you back in time -- often to places you don't want to go.
But like I said, they were small and happened right after Bogart had gulped down some water so I am not overly concerned -- but it is something that I am keeping an eye on.
While I am at work, the boys are being cared for by the wonderful Sarah, also known as the late Bubba's Babysitter and 2nd Favorite Blond (I like to think I was his first favorite) -- with daily visits from their Godmother Donna.
The Terrible Two's
September 13, 2007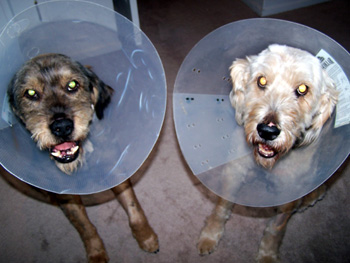 Taz and Bogart - post-surgery
Sometimes it feels like I have two toddlers at home, both of which are going thru the terrible two's.
Taz and Bogey are mischievous, rambunctious, entertaining and quite a handful.
And they have gas that, as Sarah says, can make your eyelashes curl but that is another story and something they are on medication for.
They are attached at the hip and at the heart but as I spend more time with them, their individual personalities are starting to emerge.
Taz is a "what-you-see-is-what-you-get" kind of a boy. He's the one who walks up to you, puts his face in front of yours and burps loudly. He's the class clown and klutz.
He'll lift his leg on any object, even if it's moving and it happens to be Bogart's face.
In just the last few days he skidded across a recently mopped floor -- after making his way thru a barricade of chairs -- and crashed into the wall.
Then while walking under the dining room table, he decided he really wanted to look at something on the ceiling and proceeded to hit his head. Then, like a little boy, he cried and cried as I consoled him.
He has already lost his name and license tag.
And he has "horizontal personal space" issues -- a bark often tells Bogart or anyone else that they are lying too close for comfort.
Strange because he has no problem sharing Bogart's food or water out of the same bowl at the same time but just don't lay down too close to him.
To sum it up, he is the son of Pinche.
And just like Pinche, his middle name is quickly becoming "No" as in "Taz, no!".
Bogart, on the other hand, is all peace and love. He just wants everyone to be happy.
He is the mellow one -- very protective of Taz, all he has to do is hear me say Taz's name in that tone and he will come running and try to distract me.
They are both very affectionate but Bogart is the one who sleeps next to my bed and lays at my feet. He is the one who prefers curling up with me on the couch while his brother is doing somersaults and running into walls.
Bogey can be very stubborn and he's a nudger -- his head is constantly under my arm, nudging me to pay attention to him. In turn, his attention is always on me and if I move, so does he.
He desperately wants to be loved and to love.
Both of them do....but then, who doesn't want and need to be loved, right?
Healing
September 13, 2007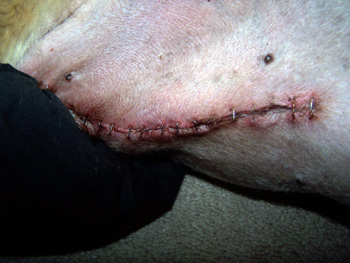 One of Bogey's Scar
This is one of Bogey's three scars -- here his abdomen was cut open so that his internal organs could be sutured down so the risk of them "popping out" thru his two hernias is greatly diminished.
Because he is a modest boy, I have covered his private parts but the scar actually runs down another inch or so.
I tell you, they are such strong souls -- truly amazing.

Resting Comfortably
September 15, 2007

Bogart had a little upset tummy yesterday (hey with all those staples in it, it's no wonder) but after he ate a bush -- ok, some leaves, he was all better.
Meanwhile, Taz is back to normal. Whoever worries that "fixing" their dog will take the spunk out of him should listen to the sounds of Taz tearing thru my living room as he plays a rousing game of rawhide football with himself.
Was that a crash I just heard?
I will be attending to some personal stuff so there won't be many updates next week but after that, we'll continue blogging away on the boy's lives, post-surgery.
Until then....
Foreign Lands and Furry Friends
October 1, 2007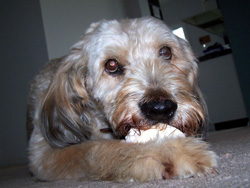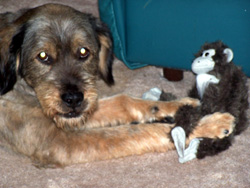 After a sojourn to a foreign land for some much needed R&R, I returned to find our two furry friends in the best of health.
In my absence, the beautiful Sarah cared for the boys and took Mr. Bogey to ASG to have his stitches removed. Doctors said he looked fine and want to see him back in one month.
Meanwhile, the toothless wonder-dog, also known as Taz, was also doing great.
But, and there's always a but, a few days after I returned and while I battled a bad bout of Bronchitis (is there ever a good bout?) both boys got sick.
First it was Taz who was up all night with his belly-a-grumbling and discharging so much toxic-smelling gas I am sure the Ozone Hole got bigger as a result.
It was bad and made for a very long and sleepless night.
The next day he seemed better but that night it would be Bogart's turn to be up all night not feeling well. The poor boy was nauseous, threw-up a couple of times and also had gas and the runs.
Whatever it was, both boys had it so their Dr. put them put on antibiotics and another medication for the diarrhea.
Dr. Long also prescribed Hills I/D dog food for them until their bellies settle down.
Today I am glad to say both boys are feeling much better although there are several things I am concerned about.
One is the regurgitating. Of course, I am coming from having a dog with Mega-E so I am sensitive to the issue but if they continue doing it, the Doctor feels they will need to be tested.
I am also very worried about Bogey's back legs where I sense there is weakness. It's something I will bring up during his next visit to ASG.
On a brighter note, both boys appear to be back to their normal weight -- check out these before and after pics of Taz.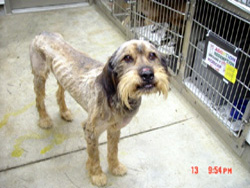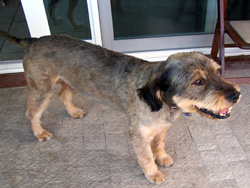 August - October
It doesn't even look like the same dog, does it?
Just goes to show the difference that love and three square meals a day can make.
Taz: The Class Clown
October 6, 2007


For more home videos of the boys, go to: The Boys on YouTube
Bogart's Top Ten
October 12, 2007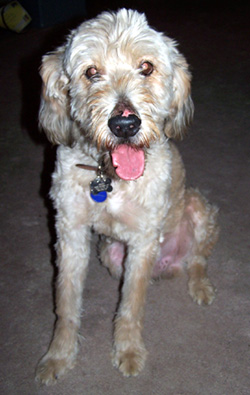 10: Can sit and contemplate life for hours at a time
9: Loves to spoon on the sofa
8: Is missing a small piece of his tongue, just like Taz
7: Fell in the pool while barking at the poolman
6: Snores lightly
5: Loves to use his head to get your attention.
He calls it nudging, I call it the "battering ram".
4: When nudging doesn't work, brings out his "right-hook" move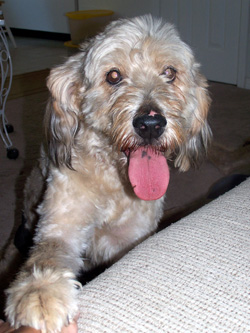 3: Is the "A" Dog
2: Has been known to spend quality time chasing his own shadow
And # 1 on the list of fun facts about Bogey:
He often sleeps with his eyes open.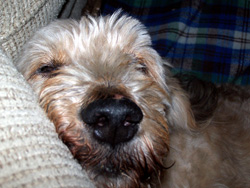 Office Supply Day
October 13, 2007

Now, where did I leave my highlighter?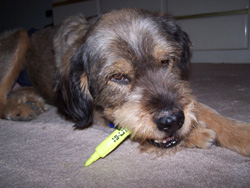 It was right next to the box of printer cartridges.
Click here: Oh, here it is


All Wet
October 15, 2007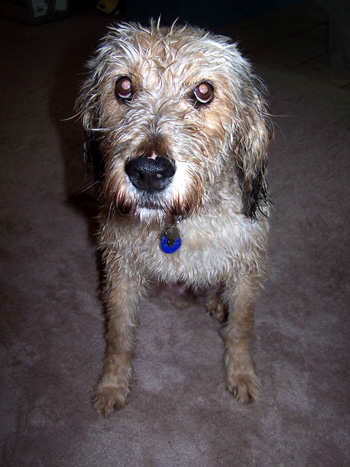 I'm all wet because....
a) Taz wanted to wash my hair
b) It's raining really, really hard
c) I was practicing my synchronized swimming
(after I fell in the pool again)

PS: Mom would be in the picture with me but she's busy drying off
"Mom, don't cry, it's only water.
Plus, you swim really pretty in your flannel pajamas.
What does 'it's 56 degrees and freezing' mean?"

Taz's Top Ten
October 17, 2007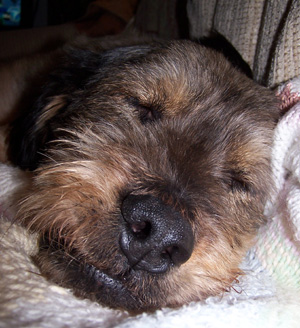 10: Has three nicknames: "Toothless wonder-dog",
"Tazo" and "Tazzy"
9: Thinks everything is a toy
From carpets to magazines
8: Can play by himself for hours
7: Has personal space issues
6: Knows how to "sit" but can't "stay" for more than a second
5: Has his own routine everyday
from the time he wakes Bogey and me up - 7:30 am on the dot
to personal grooming time - 7:45 am
to playtime - after dinner
4: Has black spots all over his tongue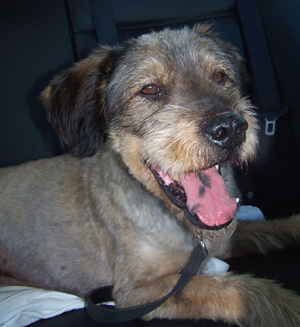 3: Always wears a diaper inside the house
except when he goes to bed at night
2: Always finishes his dinner first and then tries to eat Bogey's
And # 1 on the list of fun facts about Taz: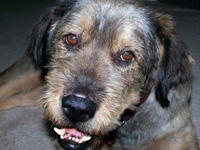 His middle name is "No"
As in "Taz, NO!!"

Bogey Boy is Sick
October 29, 2007
The big "D" is back: diarrhea, and it brought it's buddies nausea and vomit with it.
Bogey is not feeling well again and the last two nights have been long and sleepless.
I have no idea what it is since nothing in his diet has changed but I have a call into his doctor and will see what she says.
Because I was covering the fires in San Diego, I had to cancel his appointment last week to see the specialists over at ASG. The appointment was his second post-surgery follow-up and I also wanted them to check his rear legs where there is definitely a problem. I hope to reschedule that this week.
Meanwhile, Taz is feeling fine....busy as always being his puppy-like self.
More on Bogo later. Poor pup.
~~
Taking Bogey to the vet now -- there's blood in his stool.
~~
Bogey and I are back from the vet -- $499.86 and a few cc's of blood lighter and a pharmacy worth of medication heavier.
What exactly is bothering the beautiful Bogey is still unknown but blood work, as well as a full allergy panel, is being run to see if we can find out.
He is now back on Flagyl, Clavamox, Sulfasalazine and Propectalin, as well as Hill's I/D dog food.
Bogey Boy - Day Two
October 30, 2007
It's too soon to tell if Bogey is really better but he did sleep six straight hours thru the night before waking me, so that's an improvement from the night before when we were up every hour.
As for the puppy, aka Taz, he had a treat this morning....but I just noticed something stuck to his tail, which turned out to be part of the doggy cookie. How it got there, I have no idea but he sure was happy to eat up that last bite.
~~
Spoke too soon...just walked into the living room and found an "accident". The go-get-the-steam-cleaner-quick kind of accident.
Good morning.
~~
I am starting to suspect that Taz has whatever it is that Bogey has. Oh, oh.
~~
Dr. Long just called...Bogey's bloodwork came back normal which is good but still leaves us wondering what's wrong.
On the run with the runs
October 31, 2007
Whatever it is that Bogey has, his brother and partner-in-crime Taz now has it too....so that makes this one house with two boys on the run with the runs.
Can you say "clean up on aisle 5"?
Happy and Healthy - Most of the time
November 16, 2007
Everyday I think of what I am going to write in the boy's blog. And everyday something happens to make what I was going to write pointless.
In other words, talking about the boy's health is like talking about the weather in some places; "If you don't like it, wait ten minutes and it will change."
Generally speaking, they are happy and healthy boys. Taz is as mischievous as ever and a source of constant entertainment while Bogey continues to be the "thinker" of the two -- always pondering something. Both though are filled with love and always ready to snuggle, share a tail-wag and a kiss.
But then there are the bouts of diarrhea and regurgitation; Bogey's sudden attacks of nausea which makes him eat a plant and then throw it up; Taz's sporadic vomiting, etc...
It's worrisome and keeps all three of us running to the vet.
Last week Bogey's test results came in and it shows that he is allergic to chicken, corn, egg, barley, kelp and green peas.
And that only confuses things more since the main ingredients in the only food (prescription) that seems to keep his tummy and colon balanced is corn and egg!
What's a mom to do?
So, we are still experimenting with different foods -- trying to find the magical formula that will keep everything on "solid" ground, if you know what I mean.
Right now I am trying out a Kosher brand of food that a friend recommended. No religious reasons but the ingredients are simple enough: beef and water. And like my friend Linda says, if the plant gets the Rabbi's approval, than it must be clean!
Meanwhile, my purple steam cleaner stands at attention in the living room, ready to jump into action at the first sound or smell of....well, you know what.
Happy Thanksgiving
November 22, 2007
On this day of giving thanks, I am happy to say that two of my "blessings" have names: Bogart and Taz.
To think that after losing Bubba and Pinche -- both of whom I still miss terribly -- that two other boys who are so similar in behavior would find me -- well, that truly is a blessing!
Their presence fills the house with joy and happiness -- and at times, other things too. Taz never fails to make me laugh out loud with his puppy antics and Bogey is a love bug.
When I watch Taz sleeping soundly, all snuggled up in a ball on Bubba's bed, with Bogey lying nearby, I can't help but think that their fate could have been so different.
I don't want to speak for them but I know that they are very thankful too....to all of you!
So, from our home to yours on this Thanksgiving, THANK YOU!
One Bogo Mystery Solved, Another Unresolved
December 2, 2007
Bogey is sick and needs to get better but before that can happen we have to figure out what it is that he has.
What is it that makes him nauseous, want to vomit and almost always have diarrhea?
Last weekend, a late evening bout with nausea went on and on. Not even vomiting, which the poor boy did a couple of times, helped so at 3 am I rushed Bogart to the emergency room.
The on-call doctor was very kind and asked me to tell her everything that has happened since his hernia surgery.
So I told her...about everything, including the weakness in his back legs.
"Oh yes", she said, "his hip dysplasia".
To make a long story short, the doctors had already noted it in the original x-rays taken to diagnose his hernia. It seems everyone thought someone else had told me about it.
Bogey has hip dysplasia -- not bad enough for surgery but it's there.
OK, one ailment diagnosed...now, on to the next.
That night, after a comprehensive exam, a shot calmed his nausea and at 5 am we came home.
We followed up with a visit a few days later with his surgeon who said the hernia looked good so it was time to see an internist. That doctor turned out to be the Bubster's last vet.
I am back on the merry-go-round.
While the doctors think that Bogey has IBD -- inflammatory bowel disease, a series of tests were run to make sure everything else looks okay.
It didn't.
A chest x-ray found a "pattern" that most likely indicates chronic bronchitis although he has had no symptoms.
An ultrasound found mild thickening in his stomach and intestinal walls. It could be a sign of the IBD or something more serious and a biopsy of his gastrointestinal tract was recommended.
So this afternoon I will take Bogart to ASG where he will spend the night. Doctors will be cleansing his colon overnight in preparation for his endoscopy tomorrow.
Meanwhile, he is on yet another new diet; "a novel protein diet" which has him eating rabbit and potato. If indeed he does have the IBD, it is a diet that he will be on for awhile as doctors continue to work on his food allergies, etc...
Please keep Bogey -- and Taz, who will be a wreck tonight without his best friend -- in your thoughts and prayers.
More tomorrow.
Update
Change in plans -- Bogo won't be going to the hospital until tomorrow afternoon. His scope has been rescheduled to Tuesday.
Endoscopy
December 4, 2007
Yesterday I took Bogey in to ASG where he spent the night being "cleaned" out. I checked on him around 9 pm and he was sleeping.
In a short while, he will go under for his endoscopy. Hopefully the biopsies will come back negative and it won't be anything more serious than the IBD.
Meanwhile, my other puppy Taz misses his brother/friend/father something fierce. He spent a quiet night but cried and cried before going to sleep. He really does love Bogey.
More tonight -- meanwhile, good thoughts and prayers are always welcome.
Good News
December 5, 2007
Normally, finding out your dog has IBD - Inflammatory Bowel Disease - would not be considered "good" news.
But when the endoscopy showed "irregularities" in the intestine and signs of thickening that could be cancer, suddenly IBD doesn't seem that bad.
Bottom line: Bogey does have IBD but he does NOT have cancer.
And that's the best news I've heard in awhile.

Bogart to Surgery...Again!
March 18, 2008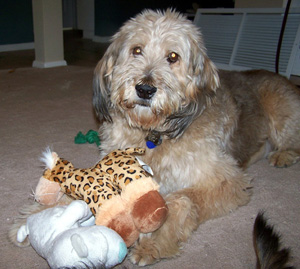 For the last three months, the beautiful Bogart has been on a special diet for his IBD and all appeared well.
Daily medication (Prednisone and sometimes Reglan), the prescription diet (Whitefish and Potato) and monthly visits to his doctor and everything seemed under control. Not.
In January, his monthly bloodwork showed that his Calcium levels were slightly elevated. Not extremely over the norm but enough to warrant a recheck on his next visit in February.
Last month, his blood test again showed the same thing, so another (very expensive) test was ordered to confirm what his doctor suspected.
A week later and the results were in. Bogart has "Primary Hyperparathyroidism".
Never heard of it? Either had I.
Hyperparathyroidism
The bottom line is that Bogey needs to have one of his four Parathyroid glands removed immediately.
And of course, I am heartbroken that he has to undergo surgery....again!
This will be the third time that he has been put under anesthesia in the six months that I have had him. First the hernia, then the ultrasound and endoscopy to diagnose his IBD and now this new disease with the really long name.
Poor pup! It has been truly overwhelming for him....and me too.
This surgery will again be performed by the specialists at Animal Specialty Group tomorrow and Bogart will spend three nights there. He will then have to have his calcium levels monitored closely.
Please keep him in your thoughts...thru-out this all he has been the sweetest of dogs. So loving and sweet.
More tomorrow.
PS: Taz continues to thrive! He has gained about twenty pounds since I picked him up from the shelter and is a happy and healthy puppy. More about him and his antics after we weather this latest storm.
7:45 am
After a pretty sleepless night, I just returned from dropping Bogey off at ASG.
Surgery is scheduled to start anytime after 1 pm but could happen sooner. They will also be taking some x-rays to determine how advanced his hip dysplasia is.
Yes, he is one sick puppy but at the same time, he's happy, playful and oh so loving!
Meanwhile, poor Taz has just fallen asleep after searching and searching and re-searching the house for his best friend, Bogey.
As soon as I hear from the doctor, I will post another update. Until then, please keep your paws crossed.
2:45 pm
ASG just called and Bogey is out of surgery -- yeah!
The Dr. said that the parathyroid gland was removed, as planned. The tissue around it was "abnormal" so it was easy to spot the gland that wasn't working. It will now be sent out for a biopsy.
Meanwhile, a groggy Bogart is in recovery. His calcium levels will be monitored thru-out the day and night with blood tests to make sure they don't drop, which can happen after surgery.
I will check on him again tonight and post a late update.
Thanks to all of you who emailed, said a prayer and thought good thoughts!
11:45 pm
I have checked on Bogey several times tonight and so far, so good.
By 8pm, he'd already been on a short walk and by 11 pm, he'd had a small meal and was "sleeping it off".
Good boy!
At least one blood test returned a normal calcium reading, so that's good too.
Tomorrow, more monitoring...this as we wait for the biopsy results.
Don't uncross those paws just yet...please.
Dropping, Dropping
March 19, 2008
I just checked in on Bogart and while doctors say he is recovering well, blood tests show that his calcium continues to drop.
That is always a concern with this type of surgery and why his levels must be monitored closely.
Doctors have started him on Tums as a preventive measure and will continue to watch him. Most likely, he will be able to come home on Friday.
Up, Down, Up, Down
March 20, 2008
The last 24 hours have seen Bogey's calcium levels drop, then stabilize, drop, then return to normal again.
It's not an unusual thing after surgery but is still a cause for concern and close monitoring.
On a brighter note, the biopsy results are back and show that the abnormal parathyroid gland that was removed is NOT cancerous!
Now, that's a relief! And Bogey may even get to come home tonight.
A special thanks to all of you who called ASG directly to donate to the cost of his surgery (I don't have your names yet).
Bogart's medical expenses have been overwhelming, to say the least.
This recent surgery is estimated to cost anywhere between $2500 to $4000. That coupled with the $300 a month in prescription food and medication costs, well, it's rough.
So thank you to all who wanted to help! It's very much appreciated.
Bogey is Home!
March 21, 2008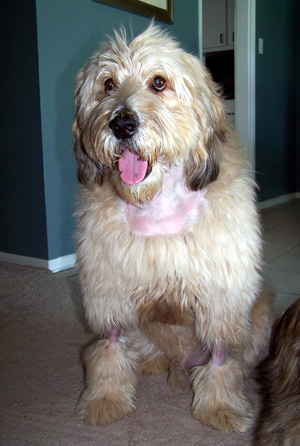 Looking a little "poodle-ish" with his new do, the beautiful Bogey is back home!
Much to the delight of his best buddy Taz, who was starting to show some serious signs of depression.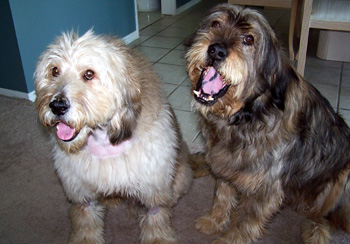 As is usually the case with dogs, who are the strongest "people" I know, Bogey seems just fine. He is on pain medication (2 Tramadol three times a day) but other than that, you'd never know he had just underwent major surgery....except for his new battle scar, of course.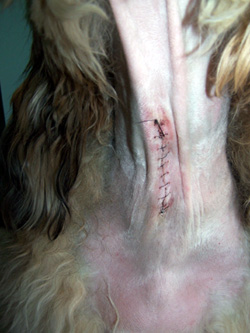 So today, all is well in Bogart and Taz's world...and in mine, too.
All four paws on the road to recovery!
March 22, 2008
It is hard to believe that this is only day four since Bogey's surgery. Again, if not for his scar, you would never know that he spent most of the week in the hospital.
Yesterday, I spent all day at home so he could stay inside and get some rest, which he enjoyed. He is still being a little finicky about food but just loves his snacks of baby carrots -- they are the only doctor-approved snack I can give him because of his IBD.
On Tuesday, we return to ASG for a quick blood test and checkup and then in two weeks he will get his stitches removed.
Hopefully, with his IBD almost under control, this will be the end of his medical issues. Poor boy has gone thru more than any dog deserves!
Here we go...again
April 19, 2008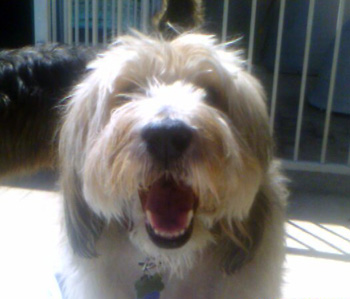 Bogo by the pool last week
The beautiful Bogart is in the hospital again.
By now, I know the blonde one well and could tell he wasn't feeling good.
Scared that his calcium level may have dropped because of the Hyperparathyroid surgery, I took him to ASG this morning where they found something else wrong.
Yes, something else. I can't even believe I am writing this.
While his calcium level was normal, his blood count (PCV) is very low. It's 20 when it's normally 40. This, according to the doctor, means that he is losing blood. The question is where and why.
Bogey will have to spend the night there and in six hours they will re-test his blood and if it has dropped any further, he will require a blood transfusion.
Needless to say, my heart is heavy.
Bogart is such a sweet and happy boy who reminds me of Bubba in so many ways.
Even though he has been in and out of the hospital almost monthly, you wouldn't know it by looking at him. Like I told a friend today, he is the "healthiest sick dog I know".
If you can spare a prayer and good thought, send them our way....again. Please.
7:30 pm
I just spoke to the doctors and Bogart's new bloodwork shows a low platelet count, an irregular spleen and fluid around his bladder.
The bruise on his rump is also getting larger (they marked it so they would be able to tell) which indicates internal bleeding.
They are thinking that he may have ITP - Immune mediated thrombocytopenia - which is an autoimmune disease.
Both a surgeon and the doctor who is treating his IBD are now being consulted.
8:15 pm
The diagnosis keeps getting worse.
Bogart is now having a blood transfusion -- something doctors needed to do right away after finding blood in his abdomen.
Because of this finding, the new diagnosis is a tumor on his spleen or liver. The two possibilities are either cancer or a benign growth.
The best case scenario is that he will have his spleen removed, the growth will be benign and life goes on.
The worst case is "Hemangiosarcoma" which will mean Bogey will have 30 to 60 days left. I don't even want to go there right now.
I knew he was a sick puppy when I got him but never thought of the possibility of losing him so soon.
And while I will try and stay positive, I am heartbroken to say the least. Bubba died two years ago this coming week and I am right back where I was then.
On my way back to the hospital now...I need to sign an authorization for surgery.
8:15 pm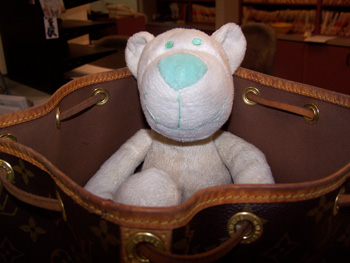 Bogey's Bear -- I left it with him in his cage
I have just returned from visting my boy, Bogey.
And yes, Bogey is my boy.
In the eight months I have had him, thru thick and thin (mostly thin), I have grown to know him and to love him. Way too much for a dog who was only supposed to be here a few months as a "foster child".
But, "en el corazon no se manda" -- a Spanish saying which basically means you can't dictate what your heart feels....and right now, my heart is bursting with love for another old dog who is really, really sick.
Two years today, exactly today, I was also at ASG with a dying Bubba. Of course, that April 19th I was praying for a miracle but the reality was that he was dying.
Two Years Ago Today
It is deja vu of the worst kind.
I spent a long time speaking with Bogart's doctor Dr. Hana, which I thank him for. I also thank him for making me laugh when he said "Bogart is the perfect patient". He is such a mellow boy.
I also had a chance to spend a little time with him.
Bogo looked serious and sad. His back leg, still shaved from last months surgery, receiving a bag full of red blood cells. They need to stabilize his blood count before surgery.
The transfusion will last four hours...then two hours after it ends, a new blood test will be done. And then again six hours later. And again, until all looks well enough to go in and remove his spleen.
For someone who will take any good news, no matter how minimal or how many disclaimers it comes with, I was happy to hear that a chest x-ray (something that is taken in these cases to see if there are signs of cancer) came back clear.
Studies indicate a 50-50 chance of a tumor on the spleen being benign. I hope and pray Bogart is on the winning side of those odds.
One step at a time, one paw in front of another.
Breathe. Pray. Love.
Saving Bogo - Day Two
April 20, 2008
I have been up since 6 am checking on Bogo but just now spoke to a doctor.
Both his 3 am and 11 am blood tests show a PCV (blood count) of 22%. Normal for him is 40%.
It doesn't seem like the transfusion helped much in raising the level, since before it was 23%. Basically, as far as I can understand, the internal bleeding continues.
At 2 pm, Pacific time, they will perform an ultrasound and then we will see where to go from there.
Meanwhile, Taz slept thru the night, after first checking several times if I was still in my bed but I fear he has begun his hunger strike. Not even the tempting aroma of Bogo's special Whitefish and Potato diet, which I am serving him as a treat, can tempt him today.
Today is a work day for me but I will try and update the blog as soon as I get the ultrasound results. The update may come very late though.
Please keep the good thoughts coming.
2:30 pm
Just called -- they are doing his ultrasound right now.
Stressed doesn't begin to describe how I feel today.
To think I thought I was taking him in because his IBD was acting up or his calcium was low. What a shock this is.
5:30 pm
Ultrasound showed mass is on one lobe of the liver. Spleen looked clean.
PCV (blood count) just dropped to 20 so they are preparing him for another transfusion.
Oh, God.
Saving Bogo - Day Three
April 21, 2008
After receiving a second blood transfusion last night, Bogart's PCV has gone up to 33 and he is now stable enough for surgery.
Starting approximately at Noon (Pacific time) the doctor will be going in to remove a mass on his liver.
The hope is that it's an isolated mass on an easily removable lobe -- and of course, that the biopsy will show it's benign.
The operation will last between 60 and 90 minutes....please send your good thoughts, white light and prayers!
I have to go and talk to God about the blonde one now...the next update should be around 2:30 pm.
2:15 pm
The call came in over an hour ago.
The news is not good.
There was no mass to remove. Instead, doctors found hundreds of nodules covering Bogart's entire liver.
Some of them were oozing, which explains the internal bleeding. Doctors removed several of them for a biopsy to tell us exactly what we are dealing with but it's pretty obvious that it's nothing good -- or benign.
I am a writer yet right now I cannot put into words how I feel. Words like "why", "unfair" and "my baby Bogo" come to mind, but they are inadequate to describe the heartbreak.
1:00 am
Bogey's PCV level is holding at 27 tonight. He is now hooked up to an EKG and continues to be monitored closely.
Meanwhile, Taz is unconsolable, as am I.
After his one day hunger strike, the poor guy is eating again but you can tell that it's only out of sheer necessity. Surprisingly, or maybe not, he now refuses to eat Bogey's fish food...food that just a few days ago he would have given a dog year for.
No fish food, no baby carrots, nothing that he associates with Bogart. Maybe it's his way of showing solidarity with his missing Bogo.
And he cries as he walks around looking for Bogart. It is hard to watch.
I know that I need to get him another friend but it is truly the last thing I want to do.
How did so much change in just a few hours time? And why? What is the "lesson" in all of this? The purpose?
Unconsolable...I am just unconsolable.
Saving Bogo - Day Four
April 22, 2008
This morning's check-in with doctors finds the blonde one looking very good but his PCV (pack cell volume = blood count) has fallen to 25.
Doctor Chaplow has an order in that if his level falls to 20 (again) then it's time for another blood transfusion.
He ate this morning, his fish food of course, and doctors were pleased with that but concerned that his platelet count still remains low -- 66,000, when they would like to see it over 100,000.
A little good news tempered by a little bad news. It's up, it's down, it's all around.
As usual, I flood doctors with question after question. "Can something be done to stop the oozing/bleeding nodules?" being the most important and coherent one.
"Not until the biopsy results tell us what's going on in the liver.", says the doctor. "And they won't be back until late this afternoon."
Day four of this storm - the unexpected and unpredicted torment that struck, finds us, in "Miracle Mode". Right now, a miracle is the only hope.
The News
April 23, 2008 - Midnite
Bogo's biopsy results came back yesterday and they confirmed the worse case scenario: Hemangiosarcoma.
There really are no "good" cancers but Hemangiosarcoma is one of the worst. Aggressive, fast-moving and incurable.
The prognosis is days, weeks. No more.
I am a person of great faith. I unashamedly believe in miracles and have been known to ask for a few.
But there are days when your faith is tested; shaken to its very core. Days when you look up and simply ask "why?".
Unanswered prayers, the simple and uncomplicated ones like "Please God, let Bogey be ok.", crush your hope. And that's something no one should ever lose, their hope for a better tomorrow or outcome.
I just wanted to help out a pair of boys who had been thru a rough time. Three meals a day, a good bath, a warm doggy bed, quality medical care with a sprinkle of love and attention mixed in, and they would be good to go.
But somewhere along the line, between Taz's toothless grin and underbite and Bogo's velcroing himself to my side, I fell in love.
And now, just eight months later, Bogey is dying.
The blonde one who sleeps right next to my bed; who follows me everywhere and anywhere and who just can't seem to love me enough, is leaving.
I know dogs die. We all die sometime. But why? Why bring these two characters into my life only to take one away so soon?
And what could the blonde one have done to deserve this? He made it thru so much - being badly treated; starved; the animal shelter; the hernia; the IBD; Hyperparathyroidism and now cancer....all in one 8 month span.
The pills, the prescriptions, the fish food...and all thru it, he remained sweet and mellow. Only wanting to love and to be loved.
I just don't get it.
Reunited and it Feels So Good
April 24, 2008 - 2:00 am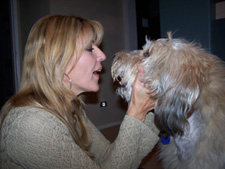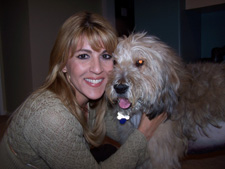 Tonight, the blonde one is back home where he belongs...and Taz and I couldn't be happier.
Well, actually we could...for obvious reasons.
After not speaking to me for the last few days, Taz is back to being Tazzy...hyper, happy and all over the place but never far from his Bogo.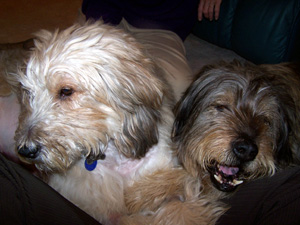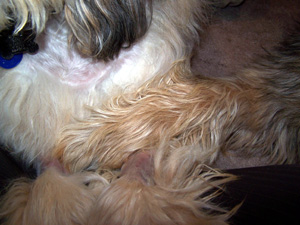 As Bogey starts to get sleepy, Taz is right next to him...his paw over Bogey's arm.
Tomorrow morning we have an appointment with Bogey's holistic vet. There are some interesting herbs that many people with dogs that have hemangiosarcoma use to stem internal bleeding.
More on that later though...it's time to get the blonde one to bed.
Living La Vida Bogo
April 24, 2008 - 1:00 pm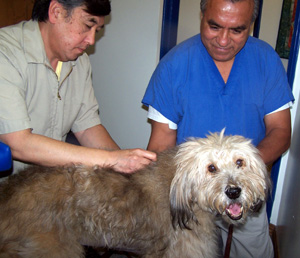 Bogo gets his first acupuncture treatment from
Dr. Ninomiya and Javier at Limehouse Vets
This morning the blonde one had his first appointment with his holistic vet and all went well. The dozen or so needles strategically placed all over his body did not bother him and he was in high spirits thru-out the visit.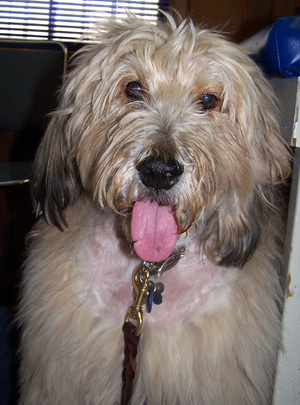 The blonde one with a needle in his head.
Doctors sent home Yunnan Paiyao, a chinese herb that is used to stem bleeds. It's quite popular actually and many conventional vets recommend it in cases like these (that's how I heard about).
We have also started two other homeopathic remedies. Meanwhile, he is eating very well and generally looks good.
All we can do now is focus on living, not dying.
Saving Bogo - Day Seven
April 25, 2008
The blonde one is as perky as ever...feeling good, enjoying life and eating well, with a couple of naps in-between for good measure. What more can we ask for?
For my own peace of mind, I decide to take him to his regular vet for a quick blood test to check his PCV level. The result is 26 which means he is holding steady. Normal (for him) would be 40 but at least it is not dropping since he got out of the hospital.
And since his blood was already drawn, I went ahead and ordered a full panel to see where everything is at.
Meanwhile, I continue to read and research everything about Hemangiosarcoma. It's the least I can do for my Bogo.
5:00 am
For a few hours Bogo's breathing seemed just a little off -- a little shallow or labored. His regular medication, Prednisone, usually makes him pant and breathe heavily so it's hard to tell if this is normal or something more serious is going on.
I can't sleep and the night is long. It gets longer though when Bogart suddenly vomits or regurgitates. It is a small amount but the color is very dark. Blood? I don't know so I rush him to the emergency hospital.
There they test his PCV level again -- 23 this time, but with a margin of error of about 3% they consider it the same as this afternoons. All his other vitals are normal and his tail is a wagging fast and furiously.
They don't know what he spit up but it could have been some old blood from the surgery -- nothing, they say, to be considered about right now. Just watch him closely and if it happens again, bring him back.
Whew...
Saving Bogo - Day Eight
April 26, 2008
After having gone to bed at 7:30 this morning, a happy and bouncy Bogo wakes me up. Both Taz and him are ready to seize the day -- which in this house means eating and napping -- and all is well.
Weren't we just in the emergency room a few hours ago?
My friend Donna comes over with what looks like an entire mobile dog grooming business and the day is spent trimming Bogo's winter coat down. It's a long job because we can't bathe him yet but he takes it well and goes along with his Aunt Donna playing beauty shop with him.
This guy is such a trooper and has the patience of an old soul.
In turn, Tazo goes to the groomers and returns looking very handsome, underbite and all, after a bath and brushing out.
Unbelievable...a week ago today I thought I was taking Bogart in to have a doctor dispense a Tums for his tummy...I left the hospital crying, dog-less and with a death sentence.
Today, life seems normal again yet my dog is still supposedly dying.
It's hard to reconcile the two things. Really, really hard.

Saving Bogo - Day Nine
April 27, 2008
It's 3:30 in the morning and I am trying to find the cure for cancer.
Armed only with my computer and a burning desire to save Bogo, I am looking for the cure.
Who has it? Where is it? And why can't I find it?
Is it cottage cheese and flaxseed? Cod liver oil? Broccoli? Magic mushrooms? Herbs, minerals or both?
What exactly is "Bioactivity-directed fractionation"? "Annonaceous acetogenins with bis-tetrahydrofuran (THF) rings?
Should I buy the book? Consult the nutritionist? Order the supplements? Hire a healer?
The blonde one, who just gobbled down a pumpkin doggy desert, after his dinner of wild caught Salmon, is looking up at me --- his big brown eyes lock into mine and he seems to ask "Did you find it, mom? Did you find the cure?"
"I'm looking, son, I'm looking."
As hard as I can and as far as I can, I'm looking.
Saving Bogo - Day Eleven
April 29, 2008
Bogey and I had our first appointment with the oncologist today and it wasn't at all the doom and gloom experience I thought it would be.
While not making any promises or trying to make light of the severity of Bogey's type of cancer - Hemangiosarcoma - she did say "I have seen a lot of miracles with this cancer". And that came at no prompting from me.
The Dr. said that when she gets together with other vets at conferences and events they all have a few cases where the cancer "disappeared" or pets that outlived their prognosis by years.
Anyway, to resume our hour plus meeting, Bogart is scheduled to start Chemo on Thursday, May 8th, 2 weeks and two days after his surgery.
She will start with the three medicine protocol: Adriamycin, Vincristine and Cytoxan. After the first cycle, we will regroup and see where we go.
I admit that I am scared...I pray that I am making the right decisions for this boy that I just adopted eight months ago.
And for Taz who lives and breathes for Bogey 24/7.
Saving Bogo - Day Twelve
April 30, 2008
Bogo's blood work from yesterday just came back and his numbers are up! His PCV - pack cell volume - is up to 29 from lows of 20-23. Still a far cry from his norm of 40 but it shows his anemia is getting better.
And his reticulocyte count shows that he is producing new red blood cells at a "remarkably regenerative rate", which is exactly what he needs.
Bogey truly has been having some amazing days....he is eating extremely well, playing and as perky as ever.
Our new normal consists of supplements almost hourly, something he loves because it involves a trip to the kitchen and is usually accompanied by some kind of treat -- in his case, treats are beets (which he loves) and baby carrots.
I am cooking fresh liver for him daily, to help bolster his anemia and he (and Tazzy) are just loving it. You would be hard pressed to even know he is sick.
Again, while everyone says Bogey is dying, he is too busy living to deal with it.
You go, Bogo! You are the man!
Saving Bogo - Day Fourteen
May 2, 2008
Bogart continues to do really well...he's eating more than ever; playing and perky.
And that has me feeling completely lost. Happy but totally confused.
I feel that my optimism and faith -- bolstered by seeing him happy and healthy-looking -- may be serving to delude me into thinking that Bogey and I are beating this thing when in reality we are not.
Do we do Chemo? He looks so good, do I subject him to that? Will it make him better? Give him more days to play with Taz?
If I don't do it, am I robbing him of some extra time?
There's a knot in my throat and I want to cry but I don't want to upset Bogey, who just brought me his teddy bear and laid it at my feet.
I think the enormity of what's happened in these two weeks has just caught up with me.
Saving Bogo - Day Fifteen
May 3, 2008
It is a new day, the sun is shining brightly, birds (including mine) are chirping away and hope is back.
The fight is still on and the journey continues.
As with Pinche and Bubba, I will continue to do anything and everything possible for the beautiful Bogart.
Right now, the big picture escapes me...I don't understand why this is happening but I guess I don't have to.
What I have to do is deal with it...so I am off to cook Bogo his lunch of liver.
Saving Bogo - Days Sixteen thru Eighteen
May 4 - 6, 2008
Bogo continues to do amazingly well.
Perky and playful, he is eating really well and taking all his medications like a trooper.
My birthday has come and gone this week...my one wish is the obvious one: please save Bogo.
Every night before we go to sleep, we pray...or rather I pray while he slowly falls asleep. I know that only a miracle can save the blonde one now.
Saving Bogo - Day Nineteen
May 7, 2008
There are no good diseases but when it comes to canine cancer, Hemangiosarcoma tops the list of the really bad ones.
It is really hard to keep the faith when everywhere you turn, the prognosis for what Bogey has is death...and soon.
That said, there are some amazing stories of survival out there -- dogs who have beat the odds by years. It is a reminder to never lose hope and to always keep trying.
Bogey is a little off today...it is minimal but I can tell he's not feeling good.
3:30 am
It is 3:30 am and we have just returned from another late night visit to the emergency room at the specialty center that is treating Bogey.
Something was just "off" -- nothing major, but I knew I wasn't going to be able to sleep if I didn't get him checked out. His PCV has dropped to 24 and his heart rate is too fast.
Right now there is nothing for doctors to do. Most likely he is having a small bleed from one of the nodules on his liver.
Welcome to our "new normal", where days consist of checking gums, in addition to poo (IBD); hourly supplements and medications; a dog-sitter; a new diet and worry 24/7 -- with a whole lot of love in between, of course.
Eight months ago when I agreed to "foster" Bogart and his brother/best friend Taz, I thought normalcy would return after his operation to reduce what at first appeared to be a huge tumor on his rump but was actually his bladder protruding thru a hernia.
God, that seems so trivial now...a hernia.
After that, I thought normal would come back as soon we got his IBD and all it's symptoms under control.
Then there was the urgent surgery to remove a parathyroid gland...surely everything would finally be normal after that.
But no, normal never returned. It has just gotten more frantic, more urgent and scarier than ever.
Not even sure I remember what normal feels like.
Saving Bogo - Day Twenty
May 8, 2008
Bogart's stomach is starting to look very full -- from the sides of his ribcage on down...distended.
He is eating well again but I am very worried. Still at work tonight but I had a sitter and now my friend Donna is with him. She also noticed his enlarged abdomen.
This is a sign of internal bleeding. I am having Donna rush him to the hospital and will meet her there.
Please keep him in your thoughts...he's such a nice boy who deserved so much better.
2:30 am
We are back home now...after yet another late night scare.
Bogo's levels are holding steady but doctors agreed that his abdomen is swollen and that there probably is some bleeding going on. Unfortunately, there is just nothing anyone can do about it.
In a few hours I am taking him in for an ultrasound to see if the cancer is progressing and what is happening in his belly.
Tonight again I will fall asleep watching his breathing.
The blonde one is so beautiful. Oh, how I hate knowing what is happening inside of him.
Why?
Saving Bogo - Day Twenty
May 9, 2008
Bogey's ultrasound shows no real progression of the cancerous tumors but there is blood in his abdomen. Most likely, the nodules on his liver are bleeding.
There is nothing that can be done to stop it. Nothing.
I am praying, at a fast and furious pace, that this is simply an "episode" -- a small bleed that can be reabsorbed by his body.
All I want is a chance to fight...a few extra months of days spent playing with his bear and being adored by his faithful friend Taz.
I just want to love him some more....and yes, I admit, I want to continue to enjoy being loved by him.
His tail a wagging, we leave the hospital with no cure in hand, no real hope. Just my prayers to a God I hope is listening.
Saving Bogo - Day Twenty-One
The Last Day
May 10, 2008


7:00 am

Last night was the longest ever since we began this journey. Bogo could not sleep, he was nauseated and in discomfort.
We pace and go out in the backyard thru-out the night. Once again, it is deja-vu of the worst kind -- I am back two years ago standing over Bubba while he tried so hard to fight his Megaesophagus.
I say a million prayers hoping that one will reach the right person.
8:00 am
Whatever it was that ailed the blonde one finally comes up. It is black and foul smelling. I imagine that it is what cancer must look and smell like. Maybe it's coming up, I think for a moment. After all, it's what I have been praying for.
Noon
Bogo is getting worse.
For the first time since he was diagnosed three weeks ago today, he does not want food or water. He is showing all the clinical signs of anemia caused by the internal bleeding.
I rush to the Chinese Herb shop near my home for some more Yunnan Paiyao -- it is a herb that almost every dog with Hemangiosarcoma takes to help stem the bleeding. I optimistically buy two boxes.
Doctors have told me that what he feels is just extreme tiredness -- weakened by the blood loss, his energy level is getting lower by the hour.
I am still praying.
2:00 pm
When exactly does optimism fade? When do you stop praying? Hoping?
In my case, it takes a lot.
My friend Donna comes over and we take Bogey back to the specialty center. Maybe he needs a transfusion. Something. Anything.
My God, we never even got to the chemotherapy part of this fight. I need time, please God, just a little more time.
A quick blood test shows his PCV has dropped to 18 -- it was 24 yesterday. When it comes to red blood cells, that is a huge drop and way too quick. His heart is racing as it desperately tries to circulate his blood to his vital organs.
This is it, the doctor tells me. A transfusion could buy a little time but the pressure from it could cause the tumors to burst and he'll die right then and there.
It's over.
In the car on the way there, I promised Bogo that no matter what, I would bring him back home and you always keep a promise to a dying dog, so home we go.
He is still walking and very alert.
I am still praying.
4:00 pm
Doctors have told me that Bogey could die in his sleep but he could also die a long and painful death as his organs begin to shut down. I cannot allow that but I am not ready to let him go.
As he naps, snoring ever so lightly, on the living room floor, I am a basket case. I cannot stop crying. What for others would be a no-brainer, is a torturous decision to me.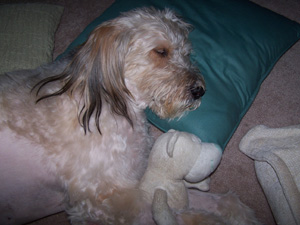 Bogey napping with his bear
How can I let him go, I cry to my friend Donna. I just found him.
6:00 pm
Donna, the only sane one in the house, begins calling a list of vets that will make house calls -- the final kind of house calls.
"Don't book them", I tell her, still stupidly hoping for that miracle. "Just get the information, just in case."
Moments later, the decision would make itself but not before, just for a few seconds, I would see a small glitter of hope.
Bogey is still walking and follows me to the kitchen where he drinks some water.
"He's drinking water!!!", I shout out to Donna. This has to be a good sign.
Then, in what I now see as his final gift to me, he accepts a few baby carrots to eat. "Baby Bogo's" is what I called them. Just the site of the orange bag they came in would get Bogey all excited -- you would think it was a steak or something.
"He's eating carrots!!!", I shout out again to Donna.
My hopes would be dashed just moments later when we decide to take Bogo and Taz outside for a short walk....as Taz rushes to the door he knocks the blonde one down and there Bogo remained. He couldn't get up, there was no strength in his back legs anymore.
I helped him up and we walked a few feet outside where he immediately laid down on the grass. Again, when he tried to get up, he couldn't and this time there was no helping him up. He had no strength and could no longer stand on his own.
That is the exact moment when all my hope died. That very instant.
When I picked him up to carry him inside, I knew our fight was over.
8:00 pm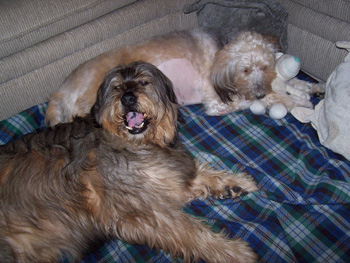 Taz and Bogey together one last time
Thru my friend Linda, our family vet Dr. Long hears what is happening, calls and graciously offers to cut her dinner short and come to the house.
Friends are called and begin arriving. The tears are flowing freely. We all wanted to save Bogart, to see him and his best friend/brother/buddy Taz live happily ever after.
No one wanted to be here, at the same spot we were two years ago with Bubba, to say good-bye. This isn't how this story was supposed to end. At least not yet, not now.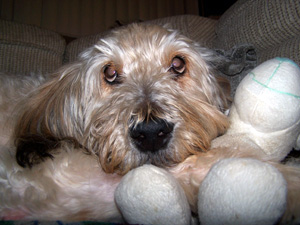 Bogo's last picture
I ask for a few minutes alone with the beautiful Bogart...my Bogo, who is still alert. And in five minutes I try to tell him how much I love him, how I don't want to let him go but I have to.
I promise him that I will take care of his Taz and I hold him. I just hold him and kiss his furry face a million more times.
How do you say good-bye to someone you love? A dog?
And then it was time.
Time to let the blonde boy who came into my life so unexpectedly nine short months ago leave; my "foster child" with a hernia that should have only stayed a few weeks but ended up moving into my home and my heart permanently.
The end came quick and painlessly...his beautiful brown eyes closing and in just the time it took to whisper one last "I love you, Bogo", he was gone.
Just like that, Bogo was gone.
What Happened to the Other Dog?
May 15, 2008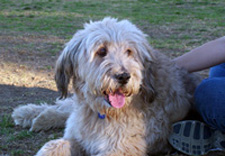 Bogo's first visit to the dog park ~ Feb 2008

"What happened to the other dog?" reads the note left on my door today by my pool man.
I don't know, I just don't know what happened to him. Bogo was here a few days ago and then he was gone.
Taz is still here but at the same time, he's sort of gone too. He is one depressed dog right now in a very depressed home.
Bogo will be buried the day after tomorrow at Pet Haven, a beautiful park-like cemetery where the rest of the dogs who have graced my life lie.
It will be another hard day added to all the other sad ones. A final good-bye to the blonde one.
Oh, Bogo.
Bogo, Bogo, Bogo. My handsome blonde boy. If you only knew how much Tazo and I miss you.

Today and Tomorrow
May 16, 2008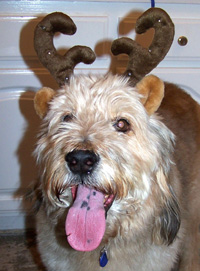 Silly Christmas Bogo-Deer - 2007
Today was spent preparing for tomorrow.
And pretty much anything that could go wrong did, including a flat tire on the way to the pet cemetery.
I did buy Bogo a beautiful medallion with an angel on it. A fitting gift to the blonde one who is now my angel.
Tomorrow, my angel will be buried and my heart aches at the thought of seeing him for the last time.
Just how do you prepare for that?
Bye-Bye Baby Bogo
May 17, 2008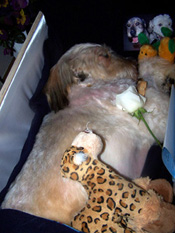 He's beautiful, absolutely beautiful.
Resting gently on his favorite blue blanket, the Blonde One looks like he is napping. He smells of a recent bath, his coat combed out and perfectly groomed; his skin that baby colored pink it always was.
Oh Bogo, how I wish I could wake you up and take you back home to Tazzy. Feed you your "fish food" and your baby carrots and once again feel you by my side as you follow me from room to room.
But I can't wake you up, just like I couldn't save you even though I tried so hard. I read every cancer paper I could, gave you every medicine there was, prayed harder than I ever have and I still had to let you go.
With a small circle of friends by my side and a whole lot of love, I said that final goodbye to Bogo today.
With him on his final journey, a few keepsakes from those who loved him in life.
Around his neck, a heart pendent with an angel -- from me -- to guide and protect my boy, now my angel.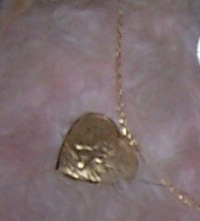 One of his favorite toys, a Tiger (which you will later read has more meaning than we knew that day) picked out by his Aunt Donna.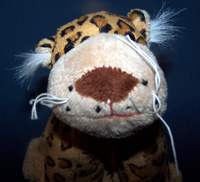 In his arms, one of his favorite things in the world: baby carrots. The stuffed toys, courtesy of Bill. Tucked into his paws, a Milk Bone from Valerie and Sandy; taken from the beautiful bouquet they brought the Blonde One.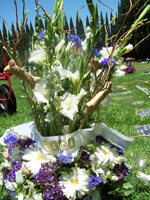 A copy of the "doggy prayer" his Aunt Marla lovingly read at the service tucked in with him too.
But most importantly, a picture of Bogo and his boy, Taz accompanies him on his final journey.
Taken exactly nine months ago today, when they arrived here for the first time; their smiles lighting up both my home and heart that day.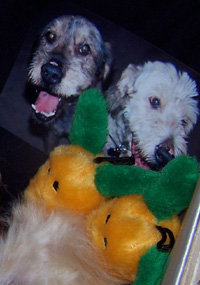 A final moment alone with my Bogo is spent thanking him for being such a good and brave boy; for trusting and loving me so much; for always doing that cute little "prance-dance" he did when I came home; for always sleeping at the side of my bed and being by my side; for so much love in such a short time.
I promise him (again) that I will love and take care of his Taz, always and forever.
And with a final prayer and lots of tears, we all said goodbye to the Blonde One.
Godspeed Bogo, until we meet again.
Taz Sans Bogo
June 4, 2008
Without a doubt, there is no one who misses Bogo more than his son, Taz.
Yes, Taz is Bogart's son.
I had long suspected that was their relationship and was finally able to confirm it when I spoke to their first owners.
The story is long and sad...but they were very much loved, that much I know. More on their first life later.
Taz is another dog now...his puppy spark has dimmed and he is one sad and empty dog.
You see, Bogey was Taz's world. More than just the "A" dog, he was his son's protector; the leader of their pack; their team of two.
Bogey was all that Taz knew and loved in life. It would take death to separate them, causing Taz's world as he knew it, to end.
Since Bogart died, Taz has never once looked for him as he did when Bogo was in the hospital. His days are spent sleeping. He eats the bare minimum to survive, with no real pleasure or gusto. Playtime is nonexistent and he is scared of pretty much everything.
And the baby carrots ("Baby Bogo's" as I used to call them) that he so loved to share with his dad, well, he won't touch them now.
I know he needs a companion, a new friend, but after going to see a few dogs that were up for adoption, I decided to wait. I needed to work on my relationship with Taz first, which is nothing like the one I had with Bogo, and that's ok. They are very different dogs.
The first weeks, Taz's attitude towards me ran the gambit of cuddling up by my side to randomly growling and not wanting anything to do with me. Understandably so, he is confused. He knows Bogey is dead but doesn't know why or who to blame.
So I have spent the last three weeks reassuring Taz that I am his Bogo now; his protector and guardian. It's been a rough haul but he has grown much closer to me than before.
And slowly, he seems to be trying to fill his dad's paw prints by doing things only Bogo did.
Taz's heart is far from healed but the process has begun. Soon, I hope to rescue another "Wheatable" (the term used for Wheaten Terrier Mixes, like Bogey) in Bogo's honor.
The Blonde One is so very much missed, I cannot even begin to tell you.
But Bogo lives on in his son....a precious gift that I have been charged with caring for and loving.
It is something I promised Bogo I would do, and a promise is a promise.
A Sad Reminder
June 30, 2008
My cell phone alarm is going off...it's time to do something I need to do.
When I click on the button, all I can read is the subject: "Make Appointment Today".
'Appointment for what?', I wonder as I click again so I can read the entire reminder.
"Three months this week. Make appointment for Bogart with Doctor"
Oh, it was that appointment.
Three months ago this week we were at the Vet's and Bogo was doing amazingly well. With the prescription diet and medication, his IBD was under control and he was doing great.
So good, that for the first time since I had him, his doctor said a monthly checkup would no longer be necessary. "Three months", said the doctor. "I want to see him back in three months for a checkup".
It was great news! And I happily programmed the reminder into my cell phone that day.
It was a date that Bogo would not live to see.
The devil is always in the details -- it is the small things that often hurt the most.
Last week, while doing some grocery shopping, I came across a coupon the store had sent me months ago. It was for baby carrots, "Baby Bogo's".
I had clipped the coupon intending to use it for his favorite snack in the whole wide world but Bogo expired before the coupon did.
How sad is that?
One Year Ago
August 18, 2008
I was only going to the shelter to LOOK at them. To get a better feel for what "Humphrey and Bogart" were like so that I could help place them.
But subconsciously, I knew better. After all, I have never seen a dog in trouble that I haven't immediately put in my car and taken home.
So, twenty minutes after meeting the boys they were in the backseat and life as I knew it was forever changed.
One year ago today what I used to call the "terrible twins" came charging into my home and heart.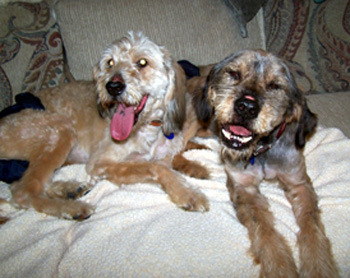 Boy's First Night Home - August 18, 2007
I had meant to foster them back to health; Bogart needed an operation and Taz (the former Humphrey) urgently needed to pack on some pounds.
But somewhere on the road to recovery, I fell in love.
Bogo had glued himself to my side, his amber eyes looking at me with so much love it would have been impossible not to love him back.
And Taz....oh, my skinny toothless wonder dog with the underbite! It was impossible not to love his funny antics.

That smile!
It's still hard to believe that Bogo is not here -- that his stay was so short yet so meaningful. Nine months was not long enough to love and be loved by the beautiful Blonde One, that's for sure.
But he lives on in his son Taz.
I believe that everything happens for a reason. It was meant to be that the email with Bogo's soulful stare was sent to me by several people. That look, that plea for help was what sent me to the shelter that day.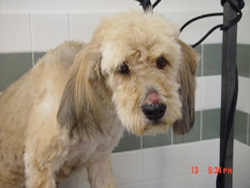 I think Bogo needed to find a home for his son and when he was sure that Taz was in good hands, it was time for the Blonde Angel to go home.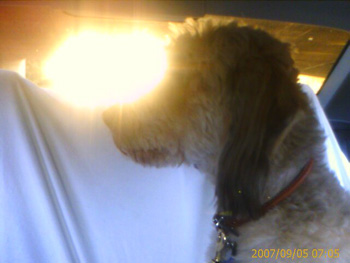 The last three months have been very rough on poor Taz but today I am glad to say that he is thriving.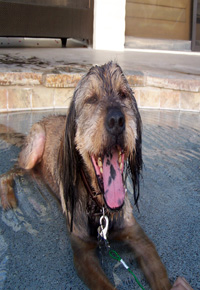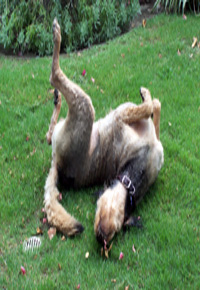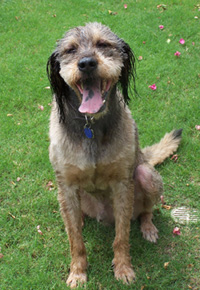 For the first time since his father died, this month Taz has finally started to eat normally again. His deep depression has passed and he has started to be his puppy self once again.
We did have one huge health scare that had Taz in the emergency room but it seems (we pray) to have been a one-time thing and all is well again.
On this one year anniversary, I wanted to thank each of you again...to Pnina who first saw them in the shelter and worked tirelessly to find them a home to their favorite "Ant Dawnah" who cared for them as if they were hers to each and everyone who contributed to Bogey's surgeries and care....thank you for helping me help two of the most deserving dogs around.
Thank you!